I'm so excited for this coming weekend in Cardiff!
It's a weekend of Anniversary Celebrations with the Sanctuary of Praise International Ministries. It starts on evening Friday with a Revival Meeting. Then on the Saturday I have the honour of doing some Evangelism Training in the Morning followed by Community Outreach on the doors in the afternoon as we put the training into practice. We finish off the day with another Revival Meeting in the evening as I share about Soaring High and Victorious Living in Christ. What a fantastic time it is going to be….Come on…Revival Fire!!!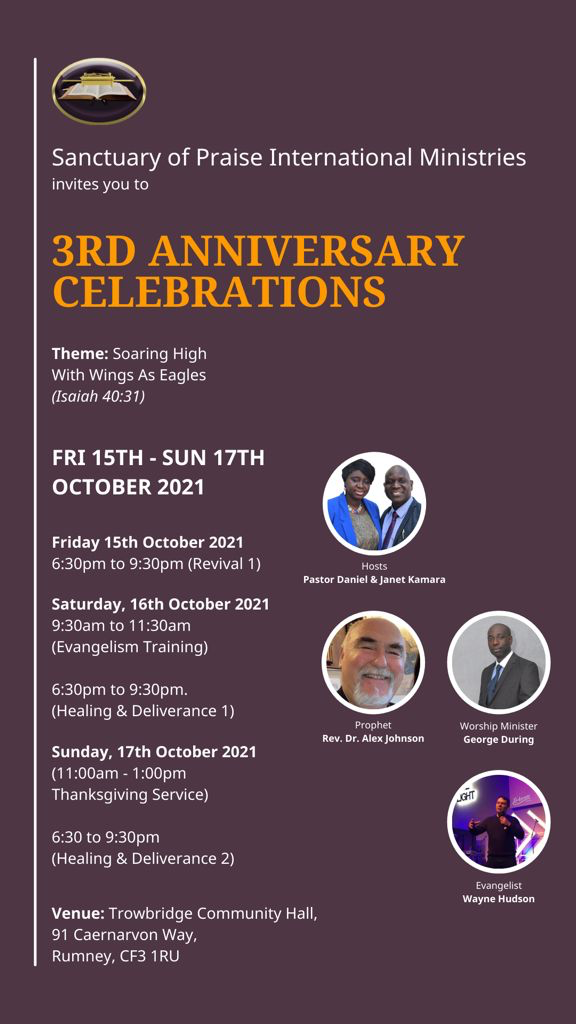 As the Sanctuary of Praise Ministries carry on their celebrations into the Sunday, I head over to New Hope Community Church, Cardiff, where I will be preaching all day at their three Sunday services. I love the guys at this church, they are always hungry for God and expectant for Him to move….Come Lord Jesus Come..be glorified!!!
If you're in the area, come and join us and see what God is doing.
#walesshallbesaved